Having lived in Manhattan & Las Vegas, John currently divides his time with family in Palm Beach FL, Long Beach Island NJ & Pittsburgh, PA
John Parker is indeed what you would call a "veteran" of the entertainment business.  Born and raised in central Pennsylvania, he was encouraged by his grandparents -his grandfather a concert violinist, his grandmother a trained vocalist/pianist.   From age three until he was twelve, John studied classical piano.   As a high school student, John was fortunate enough to have studied extensively under the nationally acclaimed Dr. David Berlin, (noted theory, composition, and electronic music expert) It was his teachings that, as John puts it "really turned the light bulb on, as to truly beginning to understand and HEAR music" At this time, John was performing with various basement bands on keyboards, and doing, as he puts it,  "a little" singing.



In college John studied business, and he performed in his first of many professional bands – playing mostly on weekends in hotels, bars and nightclubs. During college, John took his music to the road, playing keyboards and singing as lead vocalist with his band "GIMIX", and later with a band under his own name. His band performed Hotels, Nightclubs, and Casinos throughout the US and all over the world, and John earned a reputation as one of the East Coast's most talented acts.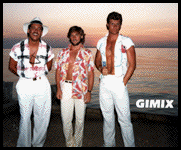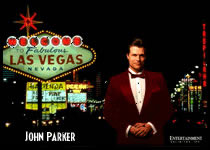 John was asked to audition – both as a band and as a solo vocalist – and subsequently appeared on the television program "Star Search" as a male vocalist, which prompted numerous other live appearances, as well as various magazine & other news articles about him, as well as increased notoriety as a vocalist in the highly competitive recording studio business, singing for commercials & backup on other entertainer's recordings. It was at this time that John was signed up by several commercial & modeling agencies to do photographic modeling, TV commercials, and numerous singing & other recording session engagements. Today John often is enlisted as a spokesperson – as representative for local, regional & national companies & organizations, and is heard on many radio spots, as well as seen on TV in various capacities.

In the mid 1990's, John formed a company that produces Pittsburgh Wedding Bands and Pittsburgh Party bands – a botique company producing, overseeing and supplying party band entertainment in Pittsburgh to over a hundred clients each year while still providing all with direct & personal service.
His company remains the top source of Wedding entertainment in Pittsburgh when clients are looking for bands.
Into the mid 2000's John added parenthood to his repertoire. Now he's quite a busy guy, John Parker in the 2000's is available for special events and limited public appearances only.
In Florida, he performs with his bands for Palm Beach Weddings and Galas Country Clubs, Fine Hotels, Resorts, Conventions, Party planners, and upscale Bridal consutants alike call upon John (and his John Parker Band ) to perform when quality entertainment is the watchword. His company also produces well known entertainment, unlimited in variety – and widely regarded as the best bands for Weddings and Parties.

John Parker
Performance credits: Corporate, Political, Charity Events:
Republican National Commitee, Democratic National Congressional Caucus, Legislative Affairs Assn., Federal Deposit & Insurance Corp. (F.D.I.C.), FedEx Corporation, Abbott Laboratories, Hoffman-LaRoche International, Bayer Corporation, National Gypsum, Leukemia & Lymphoma Society, United Cerebral Palsy Association, American Heart Association, Zionist Organization Of America, The Epilepsy Foundation of America, USAirways, The Bishop's Medallion Ball, Jewish Community Centers, Miss America Affiliated Pageants, RCA., Revco, The Natl. Association of Iron & Steel Engineers, Citizen's Bank, 84 Lumber, UPMC Hospitals, Verizon Super Pages, Adelphia Communications, Eat n Park, County Commissioners Association Of Pennsylvania,  Hartwood Acres Unbridled Affair, Westinghouse Corporation, PA Trial Lawyers Association, Young Presidents Club, American Bar Association, Jewish National Fund, National Health Management, Allegheny County Bar Association, Carnival Cruise Lines, PNC Bank, Municipal Authorities Association, International Association Of Women Police, Carnegie Hall Christmas Festivals, Super Valu, Price Waterhouse, D.D.F.&M., Towers Perrin, Builders & Realtor Associations, Allmerica Financial Corp, Chester Environmental, Tippins Inc, Ad-Tranz Corporation, Luttner Financial, ELG Metals Corp, Trumbull / P.J. Dick Corp., …..& many, many, more….
Casinos / Resorts:
John has performed at Bally's, Trump Marina, Taj Mahal, Tropicana, Showboat, Harrah's, Resorts, Mandalay Bay, Bellagio, The Venetian and Excalibur Casinos in Las Vegas and Atlantic City – The Paris Opera House, and in numerous other International Hotels & Resorts in the USA, Mexico, The Caribbean, Europe & The Orient.


Television / Film / Radio / Product representations:
Besides being on "Star Search" as a Male Vocalist, John Parker has had lead roles in Television commercials as a spokesperson for Oldsmobile, General Nutrition Centers, Ladbroke, Sheetz, Warner Cable, WQED-TV, the film "Roommates", Westinghouse, International Culinary Institute, and many others. John has additionally appeared on the products themselves, or in advertisements for: Pittsburgh Paints, Health America , Radisson Hotels, Pittsburgh Tribune Review, National Steel, Mine Safety, American Eagle Outfitters, RPS Delivery, General Nutrition Centers, Northwest Savings Bank, Fisher Scientific, Service Merchandise, Marriott Hotels, Tropicana Atlantic City, Wheeling Downs, Service Star Hardware, PNC Bank, and many others.
John Parker's singing & speaking voice can be heard on: Lite Rock 102.9 Station I.D.'s, Key Lime Realty Gold Key Program, Four Seasons Specialty Sports "Underground" Atlanta, Lorelli's Jewelry " For Christmas Day", WAIL 95 Station I.D.'s, Lenscrafters "Regal", Kaiser & Skill Caddilac "Fill The Bill", Palmetto Federal Bank "Quality You Count On" and others.
all contents © – John Parker